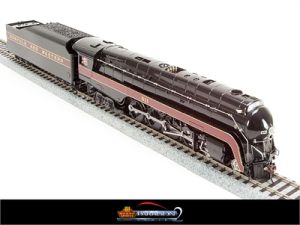 HO N&W Class J #611 Museum Version Steam Loco/DCC
The famed N&W J Class is
on its way back to the Broadway Limited Imports lineup for late 2012
with a newly refined mechanism and the sound and power of the new
Paragon2 control system! Our 2012 N&W J Class locomotive is
sure to please with authentic J Class sounds, super silky operation and
stunning paint and finish. Add to all of that synchronized puffing
smoke and you truly have an all-star for any N&W pertinent
layout! As always, BLI locomotives are limited run and delivered on a
first come, first served basis — be sure to preorder today.


Industry-Leading Features:


Product Information:

ALL-NEW Paragon2 Sound
& Control System
Synchronized PUFFING
SMOKE with Chuff Sound
Variable Puffing Smoke
Intensity and timing
Integral DCC Decoder
with Back EMF for Industry Best Slow Speed Operation in DC and DCC
Precision Drive
Mechanism engineered for continuous heavy load towing and smooth slow
speed operation
5-Pole Can Motor with
Skew Wound Armature
Premium Caliber Painting
with Authentic Paint Schemes
Prototypical Light
Operation with Golden White LED Headlight, Rear Light
Factory Installed
Engineer and Fireman Figures
Near-Brass Caliber
Detail at a Plastic Price
ABS Body with
Heavy Die Cast chassis for Maximum Tractive Effort
Metal Kadee-compatible
Couplers (2)
All-Driver Drive and
All-Wheel Electrical Pick-up except for pilot trucks/trailing trucks
Separately Applied
Handrails, Ladders, Whistle, and Brass Bell
Will Operate on Code 70,
83, and 100 rail
Recommended Minimum
Radius: 22 inches
Accurate prototypical
sounds for the N&W J
Broadway Limited Imports is proud to introduce
Paragon2: The new benchmark for premium HO sound-equipped locomotives.
These DC and DCC-Sound equipped locomotives feature the ALL-NEW
Paragon2 sound and control system. Each Paragon2 locomotive comes with
BLI's own integral DCC Decoder factory installed. Paragon2
locomotives offer Dual Mode DC and DCC operation with: superb back EMF
motor control in DC and DCC, recordable DCC operation for automated
playback, the same detail level as the original Paragon Series, and the
familiar sturdy maroon box!


Industry-Leading SOUND
Features:
Operates in DC & DCC (use
DCMaster for DC Sound)
Record & Play Operation
– Records and plays back sounds and movements once or repeatedly for
automatic operation
16-bit Sample Rate for
exceptional high frequency sound clarity
Playback Whistle for
multiple whistle lengths and patterns
Choice of 3 selectable Horns
Alternate Whistle / Horn
where applicable for locomotive with air horn and steam whistle – both
the main whistle and alternate can be easily played
Adjustable bell ringing interval
for faster or slower bell
Numerous user-mappable
functions with available keys
Johnson Bar Sound at
Direction Change
Passenger Station Ambient Sounds –
Controlled with Function Key
Freight Yard Ambient Sounds
– Controlled with Function Key
Lumber Yard Ambient Sounds –
Controlled with Function Key
Farm Ambient Sounds –
Controlled with Function Key
Crew Radio Communications –
Controlled with Function Key
Maintenance Yard Ambient Sounds
– Controlled with Function Key
Demo Mode for display and
demonstrations
Grade Crossing
Signal – Controlled with Function Key
Simple Programming with
Integral DCC Decoder
Automatic Forward / Reverse Signal –
When activated, stopping triggers and stop whistle toot. When
moving forward from a stopped position, toots twice. When
moving in reverse. toots three times.
Chuff sound
intensity varies with load
Individually adjustable sound volumes
for each effect
EZ Reset Button for quick
return to factory default settings
**Specifications on this
page subject to change.