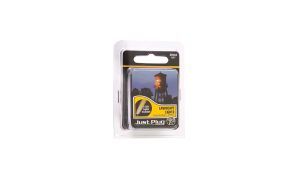 Large Spotlight – 2/pkg
Just Plug LED Landscape Lights shed some light on important
features on your layout. Use Spotlights to cast a narrow beam of light
to highlight building columns, signs, flags or monuments.
Just Plug Spotlights include two lights per package.
They are designed and ready to plug into one port on the Just Plug
Light Hub. Just Plug and you're done!
Dimensions:
Small Spotlight- 6.1 mm W x 15 mm L (0.24 in x 0.59 in)
Large Spotlight- 8.1 mm W x 15 mm L (0.318897 in x 0.59 in)
Wire length – 36 in (91.4 cm)