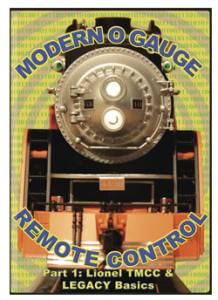 Modern O Guage TMCC and Legacy Part 1 DVD
In Part 1, we show how easy Lionel's TMCC and LEGACY are to install and use,
and how they take you to an entirely new dimension of fun and realism.
Model train expert Bob Phillips is your guide. He has been collecting,
operating, and selling Lionel trains for over 40 years. He is an authorized
Lionel repairman and has lectured extensively on Lionel TMCC.
Here's a sampling of the DVD's content:
Bob compares the original TMCC Cab-1 system with the new TMCC LEGACY Cab-2
system – including companiion locomotives.
How to use the new keypad.
How
to install on your layout.
How to phase your transformers and install common
ground wiring.
Split-screen technology allows you to see both the LEGACY
control keypad and the locomotive at the same time so it is clear what button
you press to get the results you want.
How to program an original TMCC
locomotive into the Cab-2 control by naming it, choosing type, control, and
sound settings.
How to program a LEGACY locomotive using the module key that
comes with the locomotive, also by using the new LCS Sensor Track.
How to
change LEGACY channels & update using a computer.
How to lash-up
locomotives. LEGACY's Action Reorder feature explained &
demonstrated.