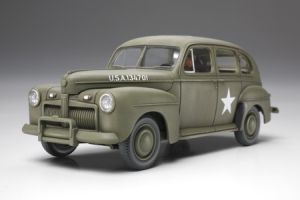 1/48 1942 US Army Staff Car
During WWII, the U.S. Military used various makes of
civilian cars as military staff cars. At this time the 1942 sedan for this purpose. This 4.9m long sedan was powered by a
90hp, 6-cylinder 3700cc motor. This sedan was widely used as a Staff Car for
high-ranking officers and as transport for aviators.
About the Model
Data for the modeling the U.S. Army Staff Car was taken from an actual
vehicle at the Minnesota Aviation Museum.
From the large compilation of photos, the shape of the vehicle was
accurately reproduced.
The chassis is made of die-cast metal which adds to the model's feeling of
weight.
A new driver figure comes supplied with the model.
You are able to add this Staff Car with other 1/48 Military Miniature Series
figures and vehicles such as the M4 Sherman tank and the M26 Pershing tank for
diorama creation.
Also, by combining the Staff Car with fighter planes such as the P-51D and
P-47 you can really assemble an exciting airfield
diorama.