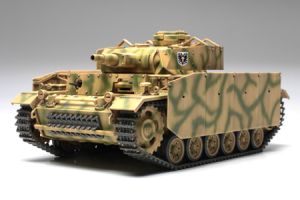 1/48 German Panzerkampfwagen III N
Tamiya remains dedicated to adding more variety to the 1/48 Military Miniature Series and now proudly brings you the final variant of the Panzer III, the Ausf.N. Line it up with the previously released Ausf.L and Sturmgeschutz III variants for a display of the Panzer III?s development history.



About the Panzerkampfwagen III Ausf.N

The rugged Panzerkampfwagen III was used in all theaters by the German army in WWII and was well-liked due to its reliability. However, the size limitations of the tank?s chassis meant that armament upgrades were limited and its usefulness as a battle tank diminished as the Allies produced more advanced and powerful tanks. With this realization, the final variant of the Pz.kpfw.III, the Ausf.N, was modified into an infantry support tank armed with the short-barreled 75mm gun from the Pz.kpfw.IV, which was being upgraded with more powerful guns. Beginning from June 1942, 700 of these Ausf.N variants, also known as Sturmpanzer III, were made and were often assigned to independent Panzer Battalions to protect the heavier Tiger tanks. The 5mm Schurzen armor skirt modifications were added from the spring of 1943.



About the Model

*High quality 1/48 scale assembly model kit of the Pz.kpfw.III Ausf.N.

*All parts unique to the Ausf.N variant, including distinctive Schurzen hull and turret armor skirts, are accurately reproduced.

*Diecast chassis for added weight and realism.

*Tank treads are assembly type, with the upper section featuring realistic sag effect.

*Comes with two sets of markings, including a tank from s.Pz.Abt. 501.