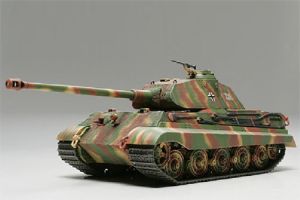 1/48 German King Tiger/Porsche
Tamiya's 1/48 MM Series continues to expand, featuring a wide variety of armored vehicles from the militaries of Germany, USA, Ues, and it mounted the same 88mm high velocity main gun as seen on the Tiger I. The ability to penetrate 152mm thick armor plate from a distance of 2,000 meters, coupled with strong defensive capability made the King Tiger a truly formidable foe. The first 50 tanks produced featured turrets developed by the Porsche company, which featured distinctive rounded contours. The Porscf the King Tiger first saw action at Normandy in June, 1944, where they put their awesome firepower to use by attempting to repel the invading Allies.



About the Model

*Assembly model of the King Tiger ?Porsche Turret? reproduced on a compact 1/48 scale.

*Amazing detailed new parts realistically replicate the distinctive round-shaped Porsche turret, tapered 88mm gun barrel and grille protective cover.

*Assembly type tracks feature straight sections made of a single link for easy assembly.

*Separately molded crew hatches can be depicted in open or closed position.

*Die-cast lower hull for extra weight and enhanced realism.

*Includes 4 sets of markings.