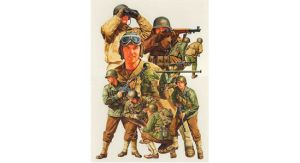 1/48 US Army Infantry GI Set
Tamiya introduces a set of 15 high quality plastic assembly 1/48 scale figures. Models depict 13 WWII U.S. infantry GIs in charging and firing poses as well as 2 tank crewmen to use as accessories for AFV models. Set includes separate plastic weapons and equipment for added realism.



About the Model

*1 set includes: Noncommissioned Officer x 2 Rifleman x 5 BAR man x 2 Machine gunner x 1 Bazooka gunner x 1 Loader x 2 Tank crewman x 2 Separate sprue for weapons and equipment.