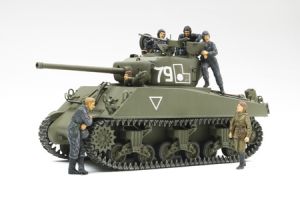 M4A2(76)W Sherman "Red Army" (w/6 Figures)
During WWII, the primary tank used by the United, was the Sherman M4. The tank was provided to Russia via the Lend-Lease Act, which supplied the United Kingdom, the Soviet Union, China, France and other allied nations with weapons and military vehicles in return for military bases. In late 1942, the first Sherman tanks sent to Russia were equipped with 75mm guns. Later versions sent in 1944, were armed with 52 caliber 76mm guns. The Russians commended these vehicles reliability and power, which was an asset to them in the Battle of Berlin.
Specs & Features
Parts for tank model are made by Italeri.
Hatches can be posed in either open or closed positions, and 4 types of Russian army markings are included.
The six tank crew figures are made by Tamiya and feature realistic field uniforms and natural, lifelike poses.
Perfect as a standalone diorama or as a component in scenes with other Russian vehicles and figures.