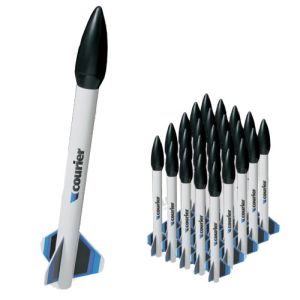 Courier Value Pack (25 rkts)
Item Description


Includes 25 rockets.

The Quest Courier Model Rocket was designed to challenge your students while allowing them to have FUN. The specially designed egg capsule comes unpadded – requiring your students to experiment with various methods of protecting the egg. It is important to have your students explore the properties of different materials as they try to determine the best method for cushioning the egg.

Features dual parachute recovery. The egg capsule descends under its own parachute and the rocket has its own.

Includes laser-cut balsa fins.
Weight: 120.00OZ
Explore Quest Products!: Model Rocket Value Pack – Skill 2
Skill Level: Two
Recovery: Dual Parachute
Fin Type: Balsa
Length: 22in / 55.9cm
Diameter: 1.38in / 35mm
Engines (Motors): B6-2 B6-4 C6-3 C6-5
Altitude w/out Egg (Estimated Max): 900ft / 274m Altitude w/ Egg (Estimated Max): 450ft / 137m