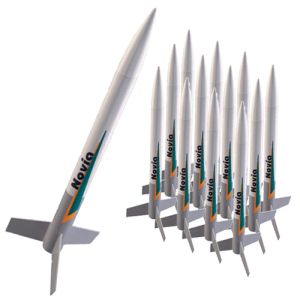 Novia Value Pack (12 rkts)
Item Description


This item Includes 12 rockets.

The Quest Novia features laser-cut balsa wood fins which glue directly to the body tube. Each Quest Novia comes with a paper cradle that students can quickly assemble to help hold the model rocket when the fins are drying. This is a big help in getting those fins to dry straight!

The Quest Novia works well for groups where time is not a critical issue (it will take 24 hours for the fins to really set) and where the motor skill ability of the group is at the middle school level or above.

Color coded parts make identification easy for your students!

The Novia uses the famous Quest Kevlar shock cord system that anchors directly to the engine mount. This system is far superior to other manufacturers rocket kits that use a flimsy paper mount that is difficult for kids to assemble.

No hobby knife is needed for assembly. The balsa fins are laser-cut and the yellow engine mount tube is pre-slit.
Weight: 43.00OZ
Explore Quest Products!: Model Rocket Value Pack – Skill 1
Skill Level: One
Recovery: Streamer
Fin Type: Balsa
Length: 11.5in / 29cm
Diameter: .787in / 20mm
Engines (Motors): A6-4 B6-4 C6-5
Altitude (Estimated Max): 1800ft / 548m