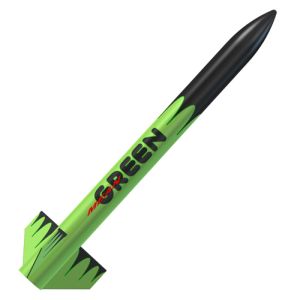 Mean Green
Item Description


FAST and FURIOUS!

Flies on "D" motors.
Mean Green is aerodynamic and sleek. 24 inches of pure fast rocket, the kit features blowmolded plastic nose cone, laser-cut balsa fins and a rugged 24mm diameter motor mount. Flights with a D12-5 will go to almost 1,200 feet. Then your Mean Green will recover gently on the big 18″ fabric parachute. Includes big, easy-to-apply self adhesive decals. Also

Recommended Motors: D12-3, D12-5
Weight: 15.00OZ
Explore Quest Products!: Advanced Rocketry Kits
Skill Level: Three
Recovery: 18″ Fabric Parachute
Fin Type: Balsa
Length: 24.5in / 62.2cm
Diameter: 1.97in / 50mm
Engines (Motors): D12-3 D12-5
Altitude (Estimated Max): 1200ft / 360m
Description
Item Description


FAST and FURIOUS!

Flies on "D" motors.
Mean Green is aerodynamic and sleek. 24 inches of pure fast rocket, the kit features blowmolded plastic nose cone, laser-cut balsa fins and a rugged 24mm diameter motor mount. Flights with a D12-5 will go to almost 1,200 feet. Then your Mean Green will recover gently on the big 18″ fabric parachute. Includes big, easy-to-apply self adhesive decals. Also

Recommended Motors: D12-3, D12-5
Weight: 15.00OZ
Explore Quest Products!: Advanced Rocketry Kits
Skill Level: Three
Recovery: 18″ Fabric Parachute
Fin Type: Balsa
Length: 24.5in / 62.2cm
Diameter: 1.97in / 50mm
Engines (Motors): D12-3 D12-5
Altitude (Estimated Max): 1200ft / 360m