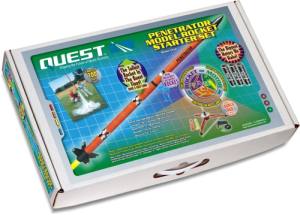 Penetrator Starter Set
The Quest Penetrator Quick Kit starter set combines Quest's tallest rocket at 38 inches the Penetrator Quick Kit, 3 C6-3 model rocket engines and a complete launch system. Everything you need for a day of flying model rockets. The launch equipment can be used to continue your adventure and fly the entire fleet of Quest rockets!

Comes in sturdy re-usable range box.