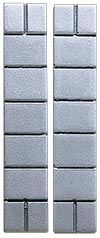 Adjustable Stick-On Weight
Our weights can be adjusted by hand right up until the big race. Attach weights to the bottom of your PineCar with the included double-stick tape. The weight and the tape are thin enough for the 3/8″ clearance needed for most PineCar Races. The weights are also easily adjusted for various sizes of PineCars. Approx. 1 oz. each.
All PineCar Weights are Lead Free!!!