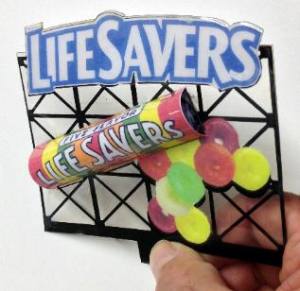 Lifesavers 3D Billboard Sign (Lg)
Our Lifesavers Billboard is our first 3D billboard!
Unique in its design, the roll of Lifesavers is actually
a half tube that is mounted on the face of the billboard
and is animated – gives a stunning effect! Size 3.80" tall x 4.5" wide,
Suitable for O/HO scales. Comes with supports.