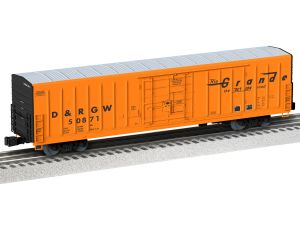 O Rio Grande #50871 Beer Car
These modern insulated boxcars
are used for a variety of canned goods, wine and of course beer. Best
known for this role, this car design has been in service for five
decades. Perfect for switching around behind the Coors SW8 – or
traveling across country over your favorite railroad to a distributor
near you!
Die-cast trucks and operating couplers
Scale coupler and 2-wheel conversion compatible
PRODUCT SPECIFICATIONS
Rail Line: D&RGW
Road Number: 50871
Gauge: O Gauge
Min Curve: O36
Dimensions: Length: 14″