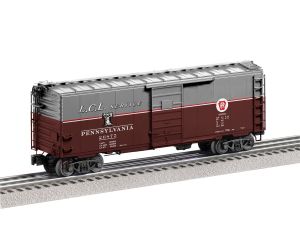 SURCHARGE O Vision PRR Boxcar
Boxcars have never been this much
fun! The cars' colorful paint schemes were meant to help draw attention
to the critical handling of their loads. Loaded with priority
less-than-carload freight, these cars are rushed from terminal to
terminal. At each of three separate stops, you can hear the hustle and
bustle of the terminal as the foremen bark orders to the workers and
the car is readied for its next shipment. And with an ElectroCoupler,
it's easy to spot this car anywhere on your layout and start the action!
Plays three different loading/unloading terminal sequences
at stops
Plays FreightSounds noises in motion
Max/Min and manual volume control
One operating and one ElectroCoupler
Separately applied detail parts
PRODUCT SPECIFICATIONS
Rail Line: Pennsylvania
Gauge: O Gauge
Min Curve: O31
Dimensions: Length: 11.25″