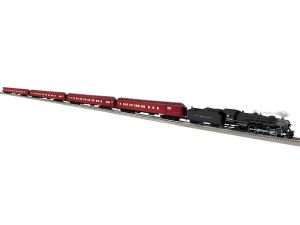 O BTO 1926 Cardinals Train Set LCS
In June of 1926, the
International Eucharistic Congress convened for the first time in the
United States, hosted by the Chicago Archdiocese. Cardinal Bonzano
would be the Pope's personal representative for the tour and arrived
from Italy in New York. Chicago Archbishop George Mundelein ensured
that he, Cardinal Hayes of New York and additional visiting dignitaries
and their entourages would travel in special comfort to Chicago. The
New York Central and Pullman collaborated on a special train for the
event which included seven heavyweight cars from Pullman's fleet. All
seven were repainted in Cardinal Red and gold and renamed for the
event. The train departed New York on June 16, arriving in Chicago
almost exactly 24 hours later. At least two of the New York Central's
K-3. 95 Years later, this special train can make just as much of an
impact on your tracks as it did on the New York Central. With its
bright red and gold paint gleaming, this train is sure to attract
attention and comments. The complete seven car consist is available
including a four car set, add on cars and StationSounds diner. The
locomotive features LEGACY and Bluetooth control along with all of the
other great features found in the Pacifics shown on pp. The set will
have a gloss finish to replicate the high polish of its one day in the
sun.
SET INCLUDES:
LEGACY 4-6-2 USRA Pacific
LOCOMOTIVE FEATURES:
LEGACY® Control System equipped – able to
run in LEGACY® Control mode, in TrainMaster Command Control
mode, or in Conventional mode with a standard transformer
Operate with Universal Remote or Bluetooth® Control
via the Lionel LionChief App
Lionel Voice Control (LVC) – run your locomotive by
speaking commands into your phone via LionChief App – available on
select items – look for LVC logo
Odyssey® II Speed Control
IR Transmitter that works with LCS SensorTrack™
Powerful maintenance-free motor with momentum flywheel
Wireless Tether™ connection between locomotive
and tender
ElectroCoupler™ on rear of tender
Directional lighting including operating headlight and
back-up light on rear of tender
Bicolor illuminated classification lights on the front of
locomotive where applicable. Using a Legacy controller, change the
color of the classification lights between white or green
Interior illumination in cab
Die-cast metal locomotive body, pilot, and trucks
Die-cast metal tender body and trucks
High level of separately applied metal details
Separately applied builder's plate
Synchronized fan-driven smoke unit
Authentically detailed cab interior
Engineer and fireman figures
LEGACY® RailSounds® sound system featuring:
CrewTalk™ dialog with different scenarios
depending on whether the locomotive is in motion or stopped
TrainSounds that mimic operating dialog when the locomotive
is in motion or stopped
Six official railroad speeds with CrewTalk dialog
DynaChuff™ synchronized with 32 levels of
intensity as the locomotive gains speed
LEGACY® "Real-Time Quilling Whistle" control with
instant response for realistic signature "quilling" and correctly timed
warning signals–5 different whistles to choose from for a more
customized experience
Single hit or continuous mechanical bell sounds–5 levels
of bell pitching for customized sounds
Sequence Control: plays the sound effects of an entire
trip, including warning sounds and announcements, based on the movement
and speed of the locomotive
Current speed and fuel dialog, coal or oil loading sound
effects
ALL CARS FEATURE:
Flicker-free LED lighting
Operating couplers with hidden tabs
Flexible diaphragms between
PRODUCT SPECIFICATIONS
Gauge: O Gauge
Power: Electric
Engine Type: Steam
Min Curve: O54
Dimensions: Length: 98″