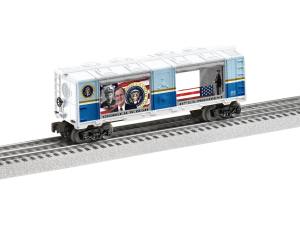 O RTR George Bush Mint Car
America lost a hero on November
30, 2018. On December 6, President George H. W. Bush took his final
Earthly trip aboard a special funeral train arranged in his honor and
befitting a man of his humanity. Years of planning and long hours of
hard work in the days before the special resulted in a meticulously
detailed and perfectly executed send off – appropriate for a man who
championed cooperation, partnership and service. Add on to your George
H. W. Bush funeral Train Set with this honorary George H. W. Bush Mint
Car.
SET INCLUDES
Die-cast metal sprung trucks with operating couplers
Metal frame
Simulated coffin and guard figure load
Display windows
PRODUCT SPECIFICATIONS
Rail Line: Union Pacific
Gauge: O Gauge
Power: Electric
Min Curve: O27
Dimensions: Length: 8.5″