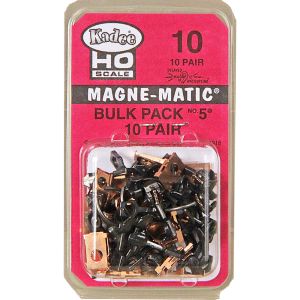 HO #5 Bulk/10pr Coupler
This industry leading coupler features an all metal standard
coupler, and #634 standard centering spring. The NO.5®
Magne-Matic® Metal Coupler may be mounted with the #213, #232,
#234, #242 Gearboxes (not included) or with other manufacturers cast-on
coupler pockets.
The 148 Whisker® Coupler is equivalent to the
NO.5® Metal Coupler.
It is not recommended to use a metal coupler directly on a
metal surface or in a metal draft gearbox to avoid possible electrical
crossover and shorting that may cause damage. Use the provided
insulated gearbox or insulated #28 coupler.
Package Includes:
(10) Pair NO.5® Metal
Couplers – Medium Centerset Shank
(10) Pair #634 Centering
Spring NO.5® Style
Extra #622 Knuckle Springs