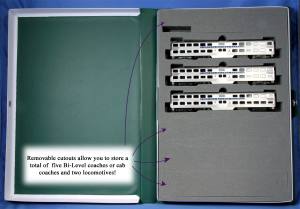 N Gallery Bi-Level Psg.Cars/3pk VRE
Gallery Bi-Level Coaches and Cab Coaches
The modern Nippon Sharyo-built Gallery Bi-Level is based off of the same concept as the original Santa Fe "El Capitan" Bi-level design concept, whose success went on to inspire such double decker cars as Amtrak's Superliners and the Bombardier Bi-Level car which is also used in commuter service. Today, gallery Bi-Level cars such as those used by the Chicago Metra commuter service can be seen operating in several states across the United States, such as Virginia and California.
Model Features:
All cars and locomotives are DCC friendly, with FR11 decoders available for optional 11-209/210 Interior Lighting Kits with LED.
Bi-Level cab coaches feature directional lighting for push-pull operation, with alternate illuminating headlight and taillights with an on/off switch for mid-train operation. An optional FL12 decoder can be installed in the place of the slider switch to provide DCC control over the directional lighting.
Smooth rolling blackened metal wheels on all Bi-level cars with all-wheel electrical pickup.