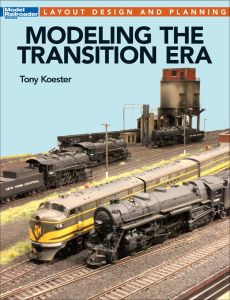 Modeling The Transition Era
In his all-new book, Modeling the Transition Era, expert modeler Tony Koester takes an in-depth look at the time period (and most popular modeling era) when railroads were changing from steam locomotives to diesel during the 1940s and 1950s. The book includes:



An overview of the era ? why diesel replaced steam.

The types of railroad equipment in use.

A look at typical railroad operations.
The book features a mix of modeling and prototype photos to help you increase the realism and accuracy of your transition-era layout.
Interested in Becoming a Dealer?
We are a wholesale distributor only. If you own a store, becoming a dealer with Emery Distributors is fairly easy. In order to get started, fill out an application and answer a few questions. We look forward to hearing from you. 
Benefits of becoming a dealer
First opportunities
Exclusive deals
Expedited shipping options
Pre-order seasonal items