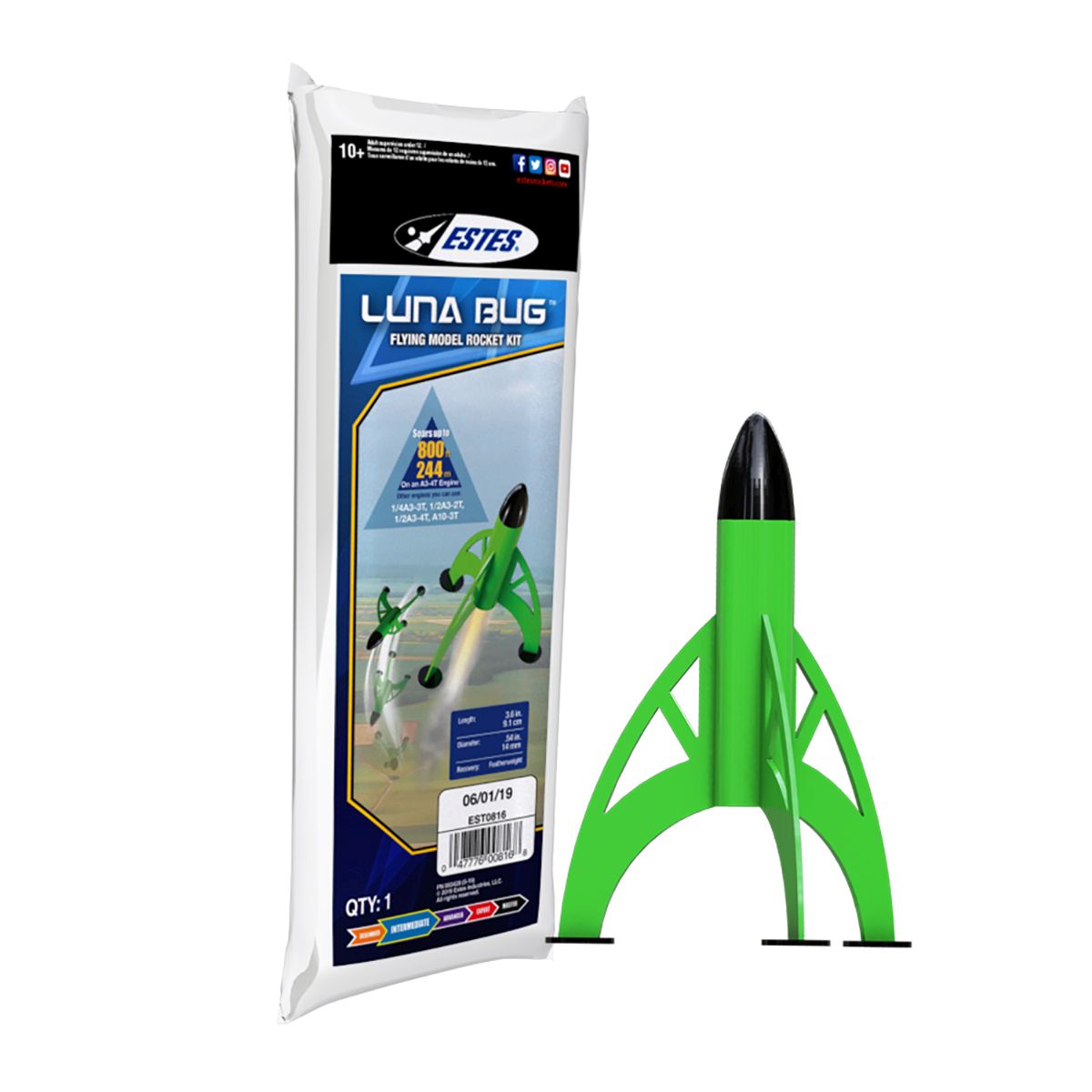 Luna Bug Skill INT
The Luna Bug is a lot of power packed into a tiny body,
soaring all the way up to 800 ft on Estes Mini Engines! This
intermediate rocket is the perfect step up from our ready-to-fly
models, or for the entry level modeler that wants to start with a
challenge. Keep altitudes high with the Luna Bug!
Length: 3 ½"
Diameter: ½"
WHAT YOU NEED TO BUILD: Pencil, fine sandpaper, yellow glue,
plastic cement, masking tape, primer (white) and gloss paint (black,
lime green). (Tools, construction and finishing supplies not included.)
WHAT YOU NEED TO LAUNCH (sold separately): Estes Porta-Pad II Launch
Pad and Electron Beam Launch Controller, Estes model rocket engines,
starters and recovery wadding. Four 1.5V high quality AA alkaline
batteries are also required for launch controller (not included).
Recommended
Engines
1/4A3-3T, 1/2A3-2T, 1/2A3-4T, A10-3T, A3-4T
Projected
Max Altitude
800 ft. (244 m)
Recovery
System
Featherweight
Length
3.6 in. (9.1 cm)
Diameter
0.54 in. (14 mm)
Estimated
Weight
0.8 oz. (22.7 g)
Fin
Materials
Cardstock
Decal
Type
N/A
Launch
System
Porta-Pad II and Electron Beam Launch Controller
Launch
Rod Size
1/8″
Age
Recommendation
Estes model rocketry is recommended for boys and girls
ages 10+ with adult supervision for those under 12, and rocketeers of
all ages.