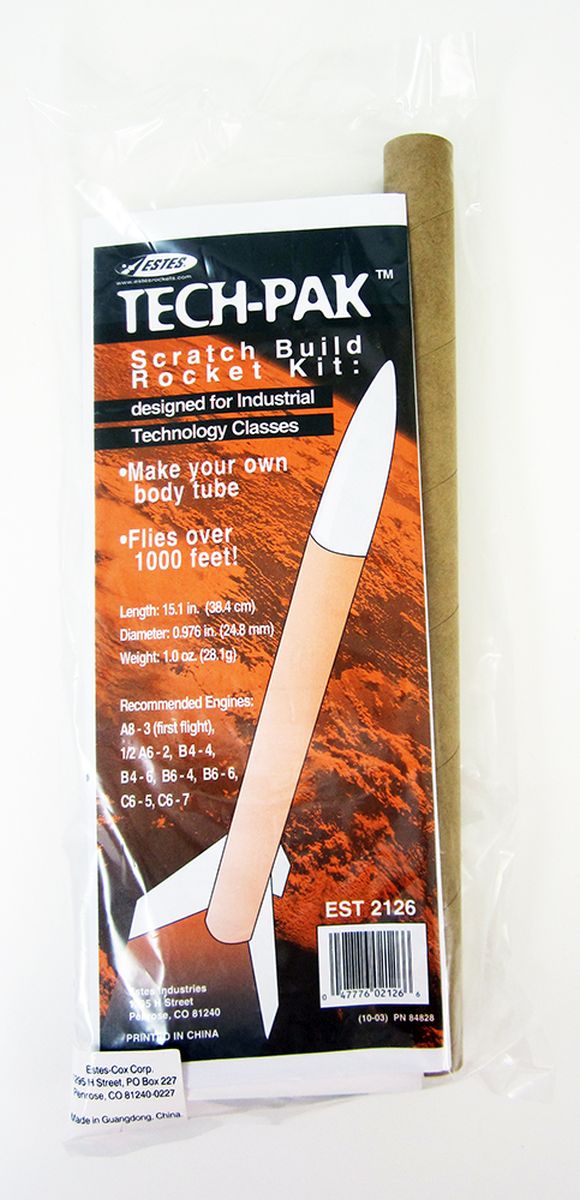 Tech-Pak Skill ADV
Do you need a challenging rocket kit for your advanced or
older students? The Tech-Pak rocket is the perfect rocket for you.
This Tech-Pak rocket was originally designed for the
Industrial Technology teacher who wants their students to scratch build
rockets. This rocket provides them with an insight to the manufacturing
process. Using the contents of this unique kit, students roll their own
body tube using gummed paper and cut out the card stock
fins to complete the rocket.
WHAT YOU NEED TO BUILD: Scissors, pencil, fine sandpaper,
yellow glue, hobby knife and sponge. (Tools, construction and finishing
supplies not included.)
WHAT YOU NEED TO LAUNCH (sold separately): Estes Porta-Pad II
Launch Pad and Electron Beam Launch Controller, Estes model rocket
engines, starters, and recovery wadding. Four 1.5V high quality AA
alkaline batteries are also required for launch controller (not
included).
VIP
Notes: This is not an introductory rocket and should not be
used for students who have never built a model rocket. Use this rocket
for experienced or older students. Reading and following the
instructions to a "T" is a must. Do not glue the
gummed body tube wrap to the body tube form and do not forget to remove
the body tube form. If this form is left, the engine mount will not fit.
Recommended
Engines
1/2A6-2, A8-3, B4-4, B6-4, B6-6, C6-5
Projected
Max Altitude
1000 ft. (305 m)
Recovery
Type
12 in. (30.5 cm) Parachute
Length
15.1 In. (38.4 cm)
Diameter
0.98 in. (25 mm)
Estimated
Weight
1 oz. (28.1 g)
Estimated
Assembly Time
2 Hours (painting and glue drying time not included)
Fin
Materials
Cardstock
Decal
Type
N/A
Launch
System
Porta-Pad II Launch Pad and Electron Beam Launch
Controller
Launch
Rod Size
1/8″
Age
Recommendation
Estes model rocketry is recommended for boys and girls
ages 10+ with adult supervision for those under 12, and rocketeers of
all ages.