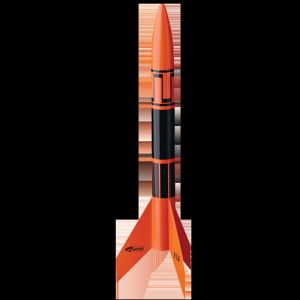 Alpha III Launch Set E2X
Skill Level E2X


Join the hundreds of thousands of people who got their start in model rockets with this classic! The Estes Alpha III was the very first rocket in the E2X series. E2X (Easy to Assemble) is a rocket series designed with beginners in mind. With all pre-colored rocket parts and easily applied self-stick decals, you're ready for liftoff in minutes.

With nothing more needed than glue for this launch set, you can be on the flying field in no time at all! Using standard Estes engines (sold separately) the Alpha III sores to heights over 1,100 feet. Whether you're a first time rocketeer or a long time flyer, the Alpha III is a true classic that should be in everyones' collection. What more could you ask for than a high performance, high flying, classic rocket!

LAUNCH SYSTEM includes Electron Beam Launch Controller and Porta-Pad II Launch Pad.
Technical Specifications
Skill Level – E2X

Length: 12.25 in. (31.1 cm), Diameter: .98 in. (25 mm), Weight: 1.2 oz. (34 g)

Molded Plastic Fins, Self-stick Decals, Parachute Recovery

Recommended Engines: 1/2A6-2, A8-3, A8-5, B4-4, B6-4, B6-6, C6-5, C6-7

Max Altitude: 1100 ft. (335 m)
Interested in Becoming a Dealer?
We are a wholesale distributor only. If you own a store, becoming a dealer with Emery Distributors is fairly easy. In order to get started, fill out an application and answer a few questions. We look forward to hearing from you. 
Benefits of becoming a dealer
First opportunities
Exclusive deals
Expedited shipping options
Pre-order seasonal items