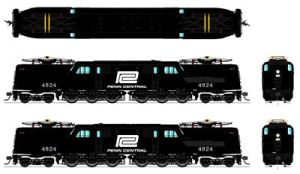 N P3 GG-1 PC #4845/blk DC/DCC
Among the worlds most recognizable engines, the
GG1 is no stranger to rail fans of all levels. The GG1 has been
plastered on everything from magazine ads and Hollywood movies to coach
seat headrests.
The GG1 represents a true breakthrough in electric locomotive
technology. Patterned after the GE New Haven, it was the eventual
culmination of nearly 40 years of experimentation. Broadway Limited
Imports brings the memory of this world famous locomotive in diecast
construction with Paragon3 electronics including Rolling ThunderTM.

Industry-Leading Features:


Product Information:

NEW Paragon3 Sound &
Operation System FEATURING ROLLING THUNDERTM with Authentic Sounds
and Prototypical Operation in both DC and DCC environments
Integral DCC Decoder
with Back EMF for Industry Best Slow Speed Operation in DC and DCC
Precision Drive
Mechanism engineered for continuous heavy load towing and smooth slow
speed operation
Premium Caliber Painting
with Authentic Paint Schemes
Prototypical Light
Operation with Golden White LED Headlight, Rear Light
ABS Body with Die Cast
chassis for Maximum Tractive Effort
(2) Operating
MicroTrains #1015 or Compatible Couplers
Separately Applied
Handrails, Ladders, Whistle, and Brass Bell
Will Operate on Code 55,
70, 83 & 100 Rail
Recommended Minimum
Radius: 9.75 inches

Industry-Leading SOUND
Features:
Operates in DC & DCC (use
DCMaster for DC Sound)
Record & Play Operation
– Records and plays back sounds and movements once or repeatedly for
automatic operation
16-bit Sample Rate for
exceptional high frequency sound clarity
Alternate Whistle / Horn
where applicable for locomotive with air horn and steam whistle – both
the main whistle and alternate can be easily played
Adjustable bell ringing interval
for faster or slower bell
Numerous user-mappable
functions with available keys
Passenger Station Ambient Sounds –
Controlled with Function Key
Freight Yard related radio chatter
– Controlled with Function Key
Lumber Yard Ambient Sounds –
Controlled with Function Key
Farm related radio chatter –
Controlled with Function Key
Crew Radio Communications –
Controlled with Function Key
Maintenance Yard related radio chatter
– Controlled with Function Key
Demo Mode for display and
demonstrations
Simple Programming with
Integral DCC Decoder
Individually adjustable sound volumes
for most effects
**Specifications on this
page subject to change.