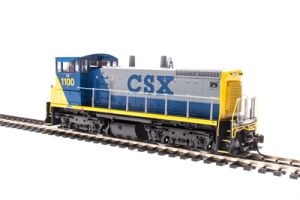 HO SW1500 Diesel CSX #1125/YN2 Scheme/DC/DCC Sound
Between 1966 and 1974, EMD produced 807 of the
12-cylinder SW1500 switchers. These prolific switchers are
easily recognized by their high mounted walkways, tall, low-radius
arched roof cab, dual exhaust stacks, and a long hood
headlight. EMD offered the SW's with either the standard AAR
type A trucks or the optional Flexicoil designed trucks. More
than half of the railroads chose the Flexicoil trucks.
Our model, of course, maintains our high standard for quality and
detail. Beyond the high level of detail, these DC and
DCC-Sound equipped locomotives feature the Paragon2 sound and control
system. Each Paragon2 locomotive comes with BLI's own integral DCC
Decoder factory installed. Paragon2 locomotives offer Dual
Mode DC and DCC operation with: superb back EMF motor control in DC and
DCC, recordable DCC operation for automated playback, the same detail
level as the original Paragon Series, and the familiar sturdy maroon
box!

EMD's SW1500 was a capable switcher
that saw distinguished duty for many railroads. BLI's model
is ready for duty on your layout, and like all BLI locomotives, she
looks, operates, and sounds great!
Industry-Leading Features:
The Paragon2 Sound & Control System
Integral DCC Decoder with Back EMF for
Industry-Best Slow Speed Operation in DC and DCC
Precision Drive Mechanism engineered for
switching
5-Pole Can Motor with Skew Wound Armature
Authentic SW1500 sounds
Premium Caliber Painting with Authentic Paint
Schemes
Prototypical Light Operation with Golden White
LED Headlight & rear light
Operating Metal Knuckle Couplers
Many separately applied details such as brass
bell, grab irons, and ladders
Locomotive length: 6.5 inches
Locomotive weight: approximately 9 oz.
Near-Brass Caliber Detail at a Plastic Price
Minimum Radius: 18″ or greater recommended

Industry-Leading SOUND
Features:
Operates in DC & DCC (use DCMaster for
DC Sound)
Auto Pilot (ATS) – Records and plays back sound
and movement for automatic operation (Macro Operation)
16-bit Sample Rate for exceptional high
frequency sound clarity
Playback Horn for multiple horn lengths and
patterns
Choice of 3 selectable Horns
Alternate Horn where applicable for locomotive
with air horn
Adjustable bell ringing interval for faster or
slower bell
Numerous user-mappable functions with available
keys
Passenger Station Ambient Sounds – Controlled
with Function Key
Freight Yard related radio chatter – Controlled
with Function Key
Lumber Yard Ambient Sounds – Controlled with
Function Key
Farm related radio chatter – Controlled with
Function Key
Crew Radio Communications – Controlled with
Function Key
Maintenance Yard related radio chatter –
Controlled with Function Key
Demo Mode for display and demonstrations
Grade Crossing Signal – Controlled with
Function Key
8 Diesel Motor Revs
Simple Programming with Integral DCC Decoder
Automatic Forward / Reverse Signal – When
activated, stopping triggers and stop horn toot. When moving
forward from a stopped position, toots twice. When moving in
reverse, toots three times.
Engine sound intensity varies with load
Individually adjustable sound volumes for most
effects
EZ Reset Button for quick return to factory
default settings

**Specifications on this page subject to change.