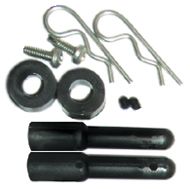 1.5" (38mm) Nylon Body Post Kit – Pair
These body mounts are great for
replacing lost or broken body mounts.
FEATURES: Sturdy nylon construction. Mounting hardware and
body clips included.
INCLUDES: Two black nylon body posts (1-1/2″ long).
Two black nylon body height adjuster rings.
Two 2mm set screws (for the adjuster rings).
Two 3/8″ long mounting screws.
Two body pins (clips).