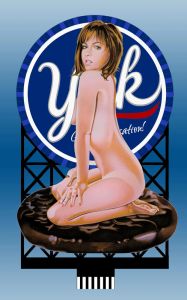 Sm. York Girl
The York
Peppermint Pattie has always been instantly
recognizable. Now it's even more unforgettable! This
sign is the companion sign for our Chiquita
sign. Like
our banana sign, we cannot take credit for its design
but found it while doing research for our new signs.
Without a doubt, this sign will add some pizzazz to
your layout… This Pattie is for you!
For a tamer version, try out regular Peppermint
Pattie
Available in two
sizes, large version comes with
supports.
Limited edition
sign.
Size
1.8"W x 2.8" T
Suitable for HO/N Scales