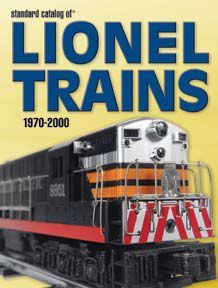 Std.Cat of Lionel Trains 1970-2000
Only full-color book to focus specifically on modern-era Lionel trains

Exploring this full-color price guide, the only reference to modern- era Lionel trains, will change the collecting sense of any fan of the legendary Lionel. With more than 3,000 crisp color photos of the most recent era of Lionel trains, and detailed listings containing current market prices and helpful rarity ratings, this book is truly unmatched in composition and clarity. This one-of-a-kind guide to modern Lionel completes the Standard Catalog trilogy.

David Doyle

is an accomplished writer with nearly a dozen books about Lionel trains to his credit, including all the books in the

Standard Catalog of Lionel Trains

trilogy. A collector of Lionel trains and former hobby store owner; Doyle travels the country gathering information on toy trains and talking trains with fellow collectors.