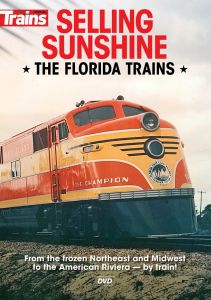 DVD Selling Sunshine – The Florida Trains
This all-new DVD, Selling Sunshine, the Florida Trains, explores how America's railroads moved masses of rail passengers from the wintry Northeast and Midwest to the warm, sandy beaches of Florida.
Narrated by television star Michael Gross, this special video gives you a behind-the-scenes look at the lucrative routes and colorful trains that traveled to the Sunshine State from the late-1800s to today! Selling Sunshine, the Florida Trains is the first documentary to chronicle this important aspect of American passenger train travel.
Approximate running time: 70 minutes (including 15 minutes of bonus footage